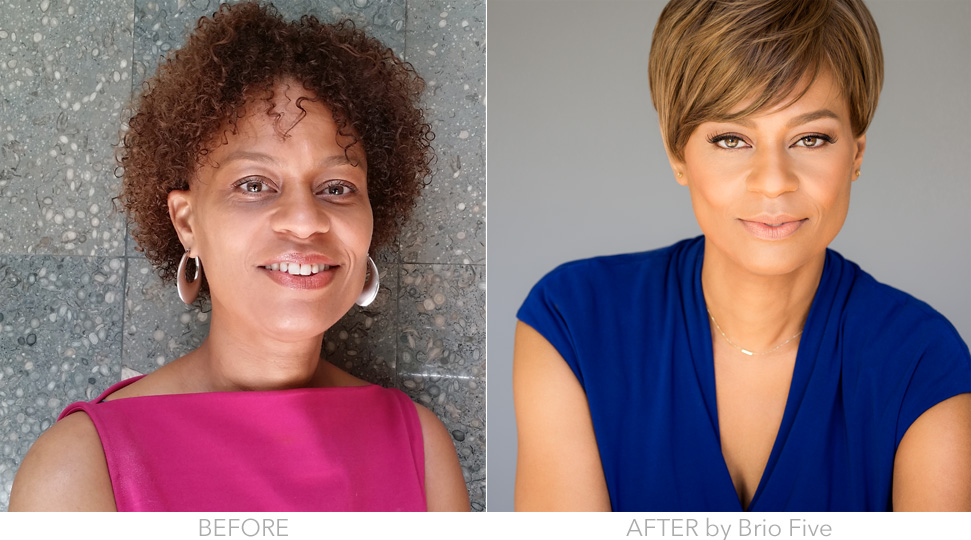 LeAndre came to us from Dress For Success with total social media overwhelm. The profile photo her friend took for her didn't do her justice and made her look and feel older and lacking confidence.
During her portrait session at Brio Five, Sandy coached her on how to approach job interviews, feel more comfortable and natural during the interview (which can often be an intimidating situation), and feel confident no matter the end result.
Sandy pointed out the strengths that LeAndre had that set her apart from others, how she has managed to be a supportive and loving single mother to her two wonderful sons, and how she lives her life with powerful intentions on helping others. This new awareness and confidence allowed LeAndre to make some powerful changes in how she saw herself and lived her life.
After LeAndre's photo session with Sandy, she not only felt more radiant, youthful and confident but she was even more motivated and comfortable with the way she presented herself when applying for jobs.
"Trying to get back into the workforce and promoting myself on social media was a challenge, at times I thought I was in an episode of the Twilight Zone! My time with Sandy brought it all together and showed me how important it is. Now I can take better care of myself, I feel more confident applying to jobs, and I've even used my photo on my vision board. I know now I can do much better!"