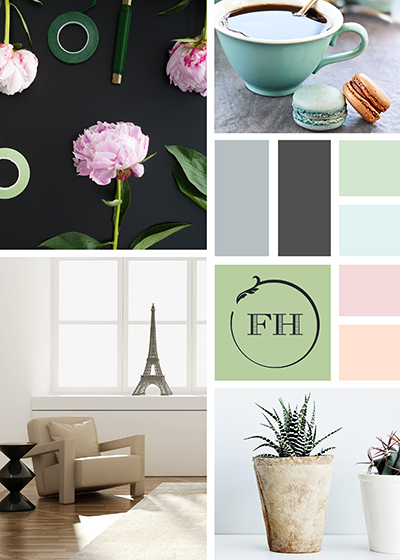 Design a personal Brand Mood Board
When you design a personal brand mood board you take the first step to branding your personal image or company in a effective and rewarding way. If you are lost and don't know where to start,  It is a way to fuel that creative direction you have been waiting for. An easy way to dream up your vision while keeping it organized and consistent. Keeping your ideas clear and thought out, so your personal brand image portrays flawlessly and gains your potential consumers attention.
Brainstorm, Reflect, and Strategize
Start off by brainstorming the client you want to attract with your image, the themes you want, what you desire to look like, your competition, and study this so you can stand out. You can use mood boards to create your website, business cards, and promotional material for your brand so everything is cohesive. Customers would rather buy from a person than a corporation so having a brand image that intertwines with your whole business is essential. Branding your personal portraits to be cohesive with your website, business cards, will make you stand out as trustworthy and professional. Almost as if a brand agency did everything for you, but indeed you are the creative director and CEO of your brand!
A Photo Says a Thousand Words
Think about eras, colors, places, and people you want to emulate. Include a small color palette, textures, fonts, images, lighting effects on photos, anything that can portray an overall mood. You can mimic these colors and textures in clothing you wear for a shoot or in the props and background places. Grab an image you love or gather from an icon you adore like Elizabeth Taylor. Her color seemed to be Emerald so if you have green eyes an Emerald dress will sure to make them pop, with cute baguette diamond earrings you can pull off an Elizabeth Taylor look easily. You can even gather ideas from movies like Casablanca for your mood board. Filled with black and white stills and movie posters, you can come up with a black and white logo with beautiful stylized fonts. If you don't know where to start check out mood boards online on Pinterest.
Where To Create Your Mood Board
Pinterest is an easy place to create a mood board. But there are many other sites for making mood boards listed here on Creative Bloq. A mood board can be made on a foam board in your house, if you want to do it more classically just pin or tape images to the board. Cut up photographs from Vogue, and fonts from Bon Appetite. Just make sure it has a flow, a similar color scheme of up to five colors to keep it simple. Keep the theme cohesive and be sure to look to other brands for easy inspiration. Martha Stewart is an example of a branded person whose image is her brand. Everything she does and sells has similar fonts and styles, you pick up a product of hers and you know. That's what a mood board is supposed to help you do. Define the way you and your brand will look for everyone to understand and trust. Make sure you feel as if your mood board describes exactly where you need your image to go. If you have any questions or want feedback on your mood board check out our Facebook group Beautifully Branded Entrepreneurs.
Are you interested in producing an image that shows your best self and conveys your authentic brand?
Book a Call with Santa Monica Professional Brand Photographer Sandy Grigsby.